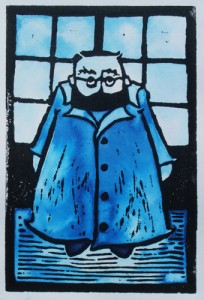 With support from the Gaelic Books Council and the Royal Celtic Society, I am putting the finishing touches to my illustrated pocket book of weird and wonderful Scottish Gaelic words, Sly Cooking: 42 irresistible Gaelic words.
Few Gaelic speakers still use the eclectic and beautifully subtle vocabulary collected by the legendary Father Allan in South Uist and Eriskay in the late 19th century. This pictorial A to Z, to be published by Acair Books, will present a selection of these fascinating Gaelic words, along with the folklorist's own entertaining definitions, and an eye-catching illustration for each.
Gaelic Words and Expressions from South Uist and Eriskay was described by its editor, John Lorne Campbell, as "more readable, perhaps, than any other dictionary". For me, it is has always been a delightful treasure trove, revealing the sophistication of a language often wrongly dismissed in modern times as limited and primitive. It is also full to the brim with folklore, and with details of the working life of the Gael, outdoors, and at home with the family.
I see Sly Cooking: 42 irresistible Gaelic words as the perfect gift for many: for those with a passing interest in the language it will give them an entertaining start; for those who think Gaelic is inferior in capacity to English, it will persuade them to think again; for fluent Gaelic speakers it will seriously enrich their lexicon. I hope it will change hearts and minds, and revive wonderful words and concepts which deserve never to be forgotten.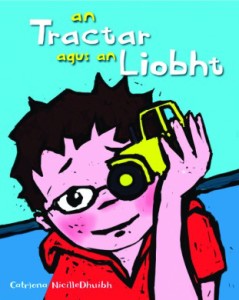 This is my first picture book for adults, but it follows two for children. In 2010 Acair published An Tractar agus an Liobht (The Tractor and the Lift), which won the Children's Book Prize at the Mòd the following year. It's a story for preschool children about what happens when two boys – one with a passion for lifts, and the other with a passion for tractors – meet. It just so happens that my son was obsessed with lifts at the time, and strongly resembles the main character.
Cairistìona Camaillean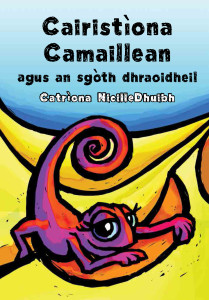 was published in 2014, also by Acair. It also won the Children's Book Prize at the Mòd, in 2015. It tells the story of a shy chameleon who is lifted by a sand storm from her home in the African desert, and dropped onto a small Scottish island. She learns that she must overcome her shyness if she is to find her way back home. Both of these picture books were made digitally, before I turned to traditional printmaking.
If you'd like to get in touch with me about my book illustration, please use the contact form to send a message or take a look at my illustration portfolio.